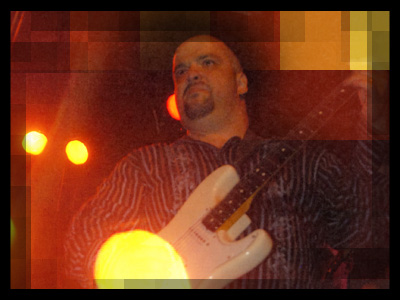 Gene Pritsker

PSEUDONYM: Noizepunk
DEMONYM: Manhattanite
Role— Co-composer of "Made in Brazil | Living in Japan"
nodes
Gene Pritsker @ Very Us Artists
genepritsker.com

Hear what Gene has to say about his work on The Ghosts of Zero:
Past Achievements— During the 2006-07 season, premiered two hip-hop/chamber operas (Money 1 and Money 2) at the Flea Theater and the Players Theater in New York and also performed them at the Outreach Festival in Schwaz where many other performances were held, including his bassoon and samplestra (pre-recorded electronics) piece, "Electrically Tragic," and those by his bands, Sound Liberation and The International Street Cannibals, a group that combines chamber music and boxing; had Three Poems From Flowers of Evil (based on the poetry of Baudelaire) performed by Absolute Ensemble, The Latvian State Choir and himself as Di.J. at the 2007 Bremen Music Festival, where his orchestrations from the movie Perfume were also performed;
had his piano concerto, 'Reinventions,' for piano and chamber orchestra based on J.S. Bach's piano inventions, premiered at the 2008 Bremen Musikfest with pianist Simone Dinnerstein and Absolute Ensemble with Kristjan Jarvi conducting; had his chamber opera, Money, again performed, this time at the Etna Festival in Catania, Sicily; released a new CD on Col-Legno Records called Open Up Your Ears and Get Some with his band Sound Liberation, who then played a CD release concert in New York's Drom, performing again at Joe's Pub, at the Blue Note, and in Ragusa, Sicily; continued to perform and premier at the Outreach Festival: "The Most Incorrigible Vice," "Come on in My Kitchen, "Sarangi Surround" and "Corruption in Conference" for Moog and concert band, performed by Adam Holtzman and the Stadtmusik Schwaz concert band, with Gene conducting;
had "Reinvention #3" for bandoneon, piano and chamber orchestra premiered by Absolute Ensemble at the 2009 Bremen Musikfest; had a concert and CD release for solo-duo-trio-quartet-quintet: the chamber and electronic music of Gene Pritsker; premiered "VRE Suite," a one hour composition for the quintet portion of Sound Liberation, later released on Innova Records; premiered ''Unsubstantiality of Things" for mixed sextet during a concert of Gene's music at the Blaine Jazz festival in Blaine, WA, where they also performed the song "No Truth" featured in the motion picture The Wedding Brothers; had a duo concert with tubist Jon Sass at the Austrian Outreach festival where he premiered an arrangement of Miles Davis's "Bitches Brew" for the Outreach Orchestra; gave a concert of his music at the Austrian Cultural forum in New York as part of their Jazz Fest; release a CD of his orchestrations of the music of Joe Zawinul, performed by Absolute Ensemble with Mr. Zawinul, which was his last recording);
was the composer-in-residence at William Paterson University in 2010, where he had numerous premieres and performances of his music, gave a performance at Le Poisson Rouge with Sound Liberation; toured "Reinventions" with Absolute Ensemble and soloist Simone Dinnerstein in the U.S., Canada, Germany and in Greece; premiered a new violin concerto, "The Modes" for Miltos Papastamou and Absolute Ensemble, at the Athens Music Festival; premiered his solo drum set piece, "Opposite Extreme of Benevolence," by percussionist Peter Jarvis and published it in the anthology, Drum Set Music for the Concert Stage; had a performance of "Essentially Tragic" for solo electric bassoon, chamber orchestra a samplestra given by Matthias Kronsteiner and the Tactus Ensemble at the Manhattan School of Music, as part of the inaugural Contemporary Performance Program Concerto Competition; saw the premiere of a new dance piece written for a set of his music at Brooklyn's Galapagos;
and has all the while had Absolute Ensemble frequently performing his arrangements of Frank Zappa's music as well as his own "Lost Illusion," a concerto for bass, orchestra and samplestra (also performed by the Adelaide Symphony Orchestra with Mat Fieldes on various basses and Kristjan Jarvi conducting) and much, much more.
Future Achievements— Will have violinist Anne Akiko Meyers record "Variations on Sakura, Sakura" for Koch Records and perform it at Le Possoin Rouge for her CD release concert; will launch Composers Concordance Records, Distributed by Naxos, whose first release will be Ballets & Solos, which will include his compositions "A Challenge to the Dark" for chamber ensemble and "Dead Souls" for solo guitar; and will see Sound Liberation's "Human Condition" featured in Episode 1 of the new season of Road Trip Nation on PBS.
Back Story— Composer/guitarist/rapper Gene Pritsker has written over three hundred compositions, including chamber operas, orchestral and chamber works, electro-acoustic music, and songs for hip-hop and rock ensembles. All of his compositions employ an eclectic spectrum of styles and are influenced by his studies of various musical cultures. He is the founder and leader of Sound Liberation, an eclectic hiphop-chamber-jazz-rock-etc. ensemble, who have recently released a CD on Col-Legno Records. Gene's music has been performed all over the world at various festivals and by many ensembles and performers, including the Adelaide Symphony, the Athens Camarata, the Brooklyn Philharmonic and the Berlin Philharmonic. He has worked closely with Joe Zawinul and has orchestrated such Hollywood movies as Perfume, Story of a Murderer and The International. The New York Times described Gene as "audacious" and "multitalented." In The Music Connoisseur, Fall 2001, Joseph Pehrson wrote "Pritsker dissolves the artificial boundaries between high brow, low brow, classical, popular musics and elevates the idea that if it's done well it is great music, regardless of the style or genre." Other organizations he is associated with include Composers' Concordance, Absolute Ensemble, and the International Street Cannibals. Some of Gene Pritsker's music is published by Falls House Press, Gold Branch Music, Periferia Sheet Music and Calabrese Brothers music, his recordings released on Col Legno, Enja, Eutrepe, Wergo and Capstone record labels.